Approval process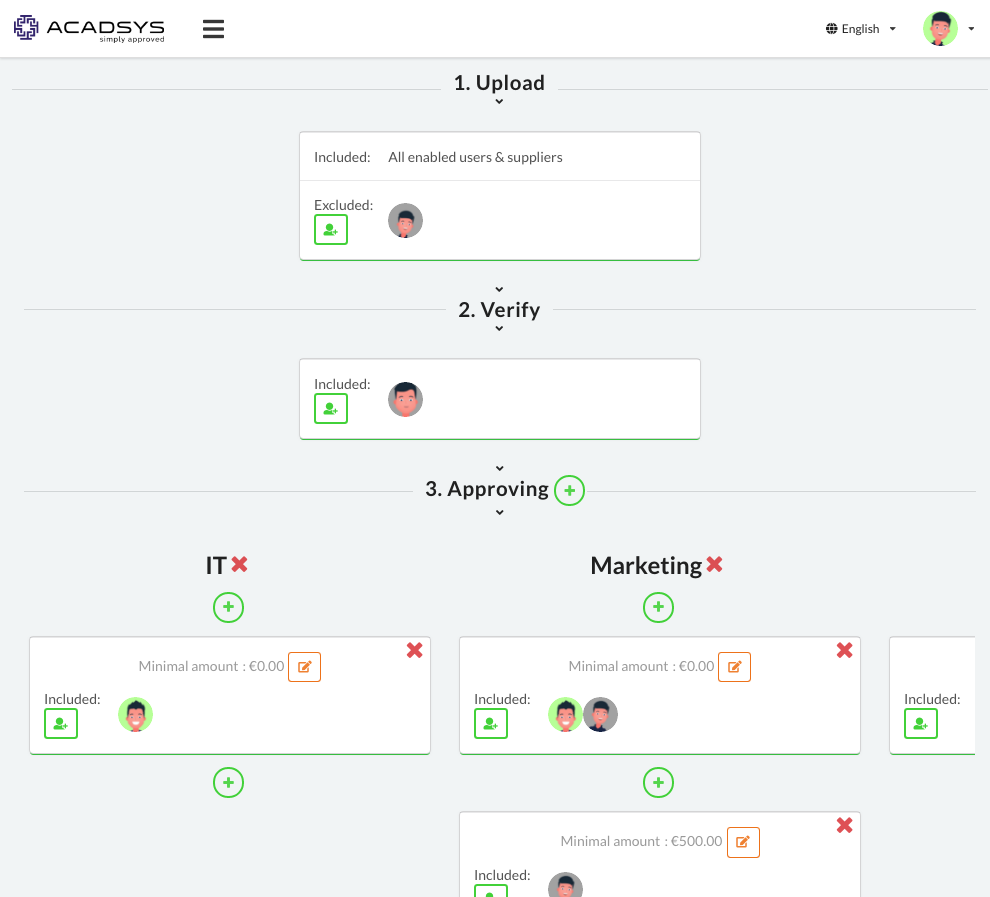 The approval process consists of 6 basic steps:
Upload / Upload
This step is available by default to all system users. If we want to prevent some users from uploading to the system, we can remove them from this step. If the Verify step has no user, the uploader must also select the approval line.
---
Verify
This is an initial post-recording check, where formal deficiencies can be caught prior to approval. In this step, the approval line is selected for approval. If this step is omitted, the approval line is already selected in the Upload step.
---
Approve
In this step, there is the possibility to have an unlimited number of parallel approval lines and any number of sub-steps in each approval line. Individual sub-steps may have a defined minimum document value to be stopped for approval in this sub-step. Documents with a value below the minimum will skip this sub-step and go on in the approval process.
---
Controlling Control
Step for control by the financial controller. The step can be minimal or omitted.
---
Payment release
A step that can include any number of sub-steps with a minimum value, ideal for approval by the CFO and then the CEO.
---
Accounting / Posting
Only users with the Accounting role can be assigned to this step as this is the final posting. In this step, export of the document to accounting is available
Resulting Export Document to Accounting ...

---
Process settings
Add approval line video:
---
Approval statistics
The approval statistics show for each step how many pending documents are in each step, how many documents have been approved at each step and what was the average approval time at each step. You can view individual document lists for pending and approved documents. By default, statistics are from the current month, but you can change them by selecting dates at the top of the statistics.